THEY HAVE A NAME!!!!!!!!!!
THEY HAVE A NAME!!!!!!!!!!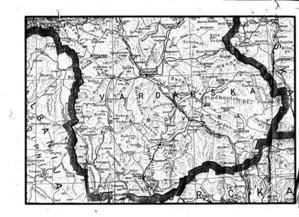 FOR THOSE THAT SEEK A NAME FOR " MACEDONIA ".

THE NAME OF THE AREA BEFORE WORLD WAR II WAS VARDARSKA.

THE NAME MACEDONIA WAS GIVEN TO THEM BY THEIR LEADER JOSEF BROSTEIN (OR THE LEADER KNOWN AS TITO).

ATTACHED YOU WILL FIND THEIR MAP BEFORE 1940.

A FEW NOTES FOR THOSE WHO DO NOT KNOW.

1. ALEXANDER THE GREAT AND HIS TEACHER ARISTOTLE SPOKE HELLENIC. NOT ANY SLAVIC LANGUAGE.
2. THE MACEDONIAN CAPITAL WAS PELLA. NOT SKOPJE.
3. ALEXANDER'S SISTER WAS CALLED THESSALONIKI. NOT SOLUN LIKE THE SLAV(E)S CALL IT.
4. VOUKEFALAS WAS ALEXANDER'S HORSE. NOT A ZASTAVA.

SO, VARDARSKA IT IS AND STOP PLAYING WITH THE REAL MACEDONIANS.

WE'VE HAD ENOUGH WITH THIS JOKE.